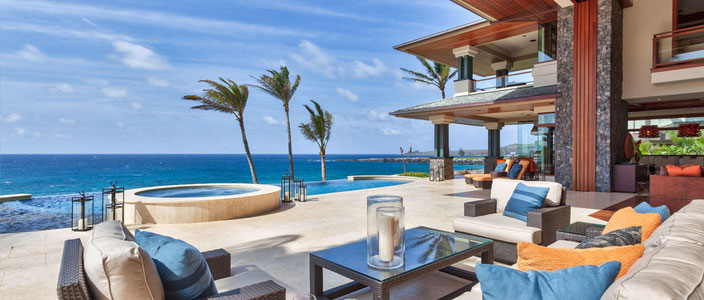 Hawaii the Paradise of Island forever
Paradise Hawaii which there are the cobalt blue sea and rich green mountains close, and is warm and still charms people in the world earnestly every year for long time.  
They are the climate which does not have the rainy season through the year, either and was stabilized at it, and the land which in addition to the merit of the peace adapts itself to Japanese people very easily also in the field of culture, morality, and food a point near also in distance from Japan.
Since demand has exceeded supply over the long period of time to the happy top where it is supreme to pass every day itself in this land, also when considering sale in the future, here Hawaii can be said to the purchase of real estate as the optimal place from the point that stabilization at a high price is expectable.  
Many people always gather from all over the world a migrant, a retired, a military personnel, a student, etc. besides a traveler, and since the operating ratio of the room is also always high and there are few vacant room risks, it is a big charm also as a real estate investment. 

 The State of Hawaii consists of six islands including Oahu with Honolulu which is also the center of economy and politics. These islands neighboring Oahu are also extremely popular, with significant numbers of visitors throughout the entire year. On these islands visitors enjoy a variety of popular activities such as shopping, marine sports or best of all, to engulf one in Hawaii's sublime beautiful natural landscapes and will be drawn in the charm of fathomless Hawaii by many people.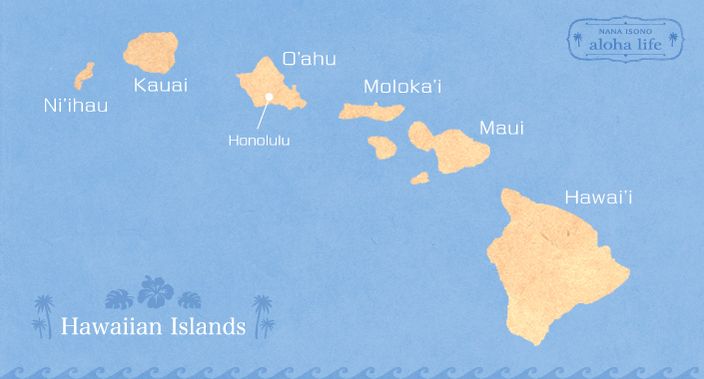 Honolulu where is controlled almost 90% of its land mass is utilized by the U.S. government for military purposes. The Island's limited land space adds value to existing properties, statistics show that within the last 40 years, on average, a steady, annual about 10% increase in real estate value despite fluctuations in the economy. These shows clearly indicate how Hawaii real estate market busy. 

The following are transition of the Hawaii real estate price from the 1980s to the present, and a graph of dollar circle transition.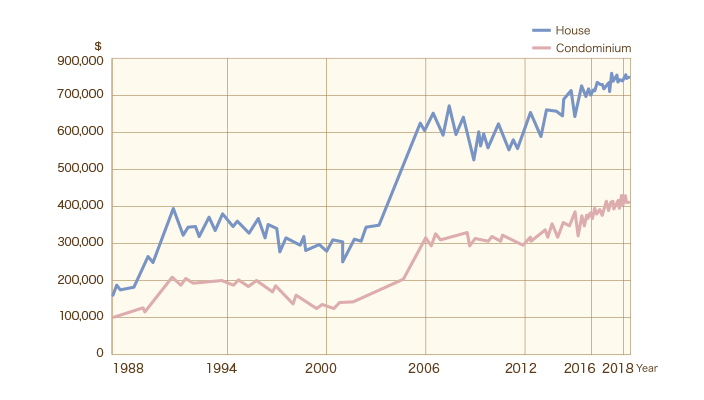 It is going up by about 6% per year. The top continues to count upon the rise further. 
(If it sees in 28 years, it will go up by 240%)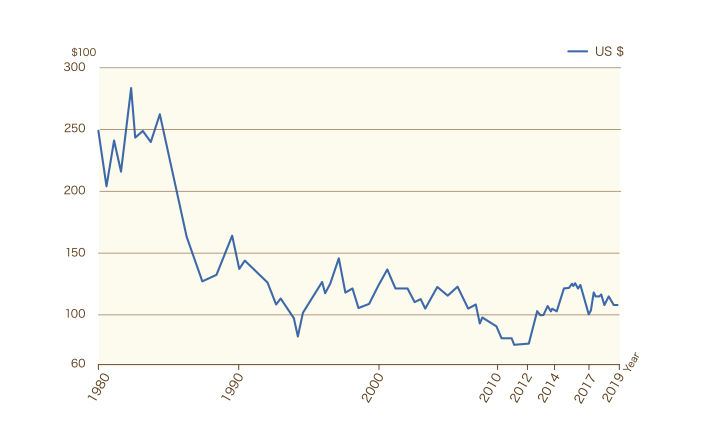 Compared with several years before, it can purchase at a low price about 15-20%. 
If two graphs are seen, it can be said that the property market of Hawaii is prosperity very much. 
Hawaii Real Estate Market NOW
Hawaii's current Real Estate market is very active now due to recovery of Economy for United States, Low percentage of home loan also many new development are coming up at Kaka'ako,east side of Honolulu and Kapolei, Ewa's new housing project where in west side.That makes Oahu's real estate median price are getting higher, also makes shorten time for sold. So you should make offer immediately when you find suitable property for you. Average sold price is 96.5% of Listing price which shows it is hard for major price negotiation.
A Hot Market: Kaka'ako District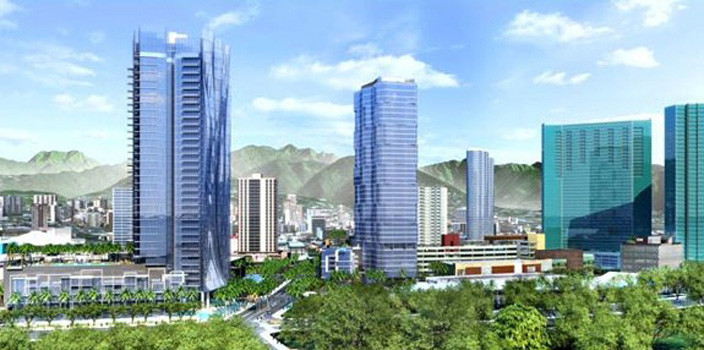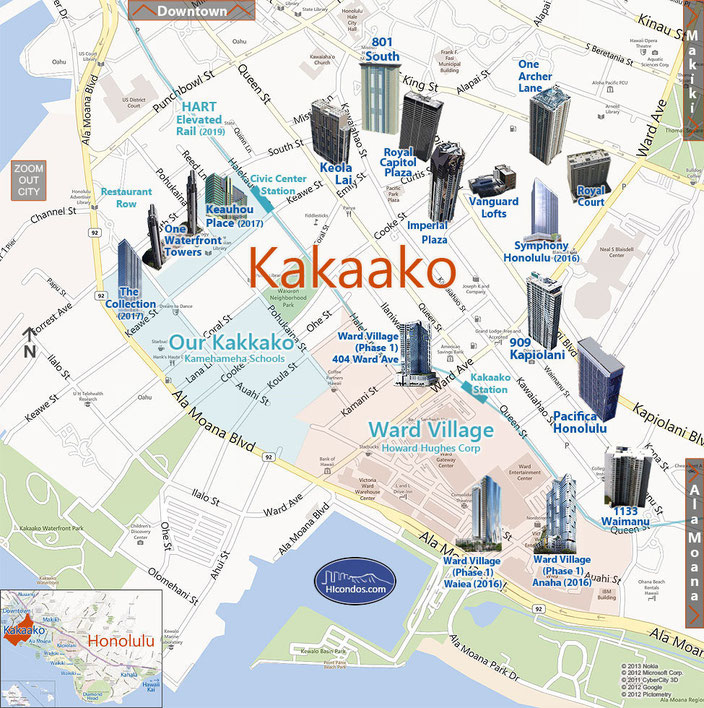 Are you familier with"Kaka'ako" area?
Which from the west in Ala Moana Shopping Center to a downtown in Honolulu that has recently been gathering much attention. Just close from Ala Moana Center's West end all the way to Downtown, this district saw robust movements in construction within the last couple of years, including Nauru Tower in 1990, Hawaiki Tower in 1999, Hokua and Ko'olani in 2006, Moana Pacific and 909 Kapiolani in 2007, Keola Lai in 2008, and Pacifica Honolulu in 2011,One Ala Moana and Waihonua in 2015, also Keauhou Place, Symphony Honolulu will be coming up in 2017 Summer, Ward Village AE'O plan to be completed in end of 2018.

Within this exciting community, though, lately the talk of the hour has been in regards to the newly developing "Ward Village." The mystery behind this project was dissolved in 2012, October, when Howard Hughes (Developer of mega projects including Ala Moana and Ward Centers, and others in over 16 states in the U.S.) announced its visions. According to Howard Hughes,around by year of 2029, 60 acres worth of the Ward area will be developed into an "urban village," which entails the construction of 22 condominiums (4,300 units), and in the gaps more retail spaces, restaurants, and entertainment facilities. The first phase of the Ward Village includes casual luxury, ANAHA (1108 Auahi), and undoubtedly the most monumental of all anticipated structures in this area, elegant luxry WAIEA(1118 Ala Moana), designed by world-renowned architect, James Cheng. After this, Ke kilohana, Ae'o has been done. Aaali'i, Koula is under construction and Victoria Place is scheduled for construction. As of 2020 Spring, 70 percent of this Kaka'ako Urban City plan has been done.
Conveniently, the commercial planning that surrounds these residential structures is keeping up with great momentum. There is a great restaurants, popular organic products store "Whole Foods" also, one of the trendiest modern furniture stores in Honolulu," Inspirations" is located on the first floor of Moana Pacific, and most of the luxury car dealerships for brand names such as Mercedes, BMW, Porsche, etc. are right by the corner.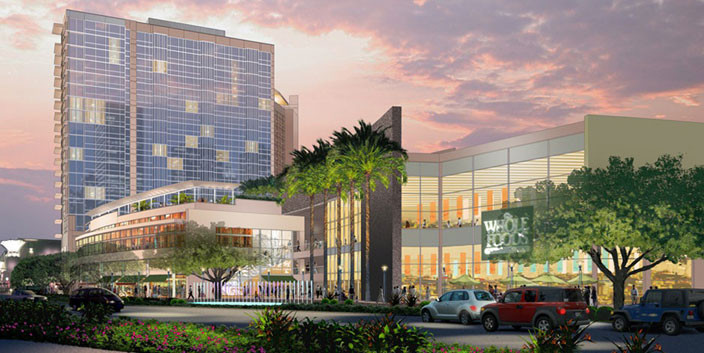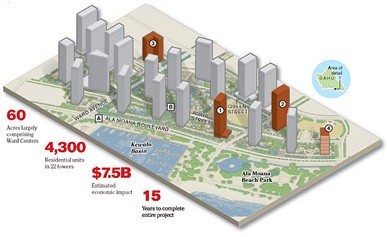 With much attention and dedication to the development of this newly emerging Kaka'ako distrct, it seems only a matter of time before it transforms itself to the new center of Honolulu.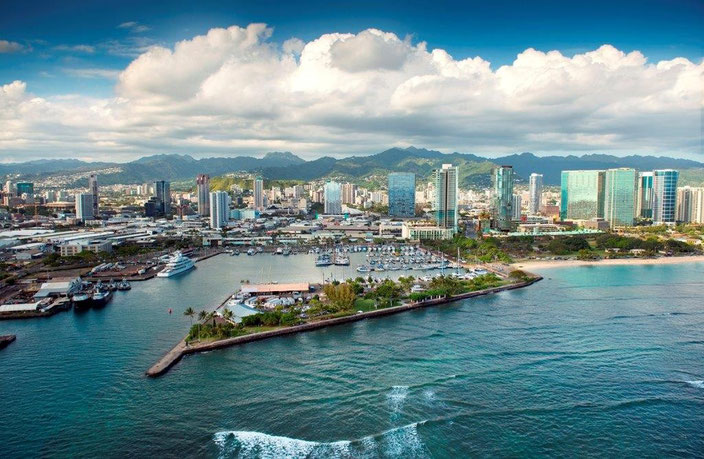 Also the "Ward Village" has received approval to lease, manage and revitalize Kewalo Basin Harbor beginning in August 2014. 

A mixed-use harbor located makai of Ward Village in the heart of Honolulu (photo attached), Kewalo Basin Harbor currently consists of 144 boat slips across 35 acres.  As Ward Village transforms into a community for all, so will Kewalo Basin Harbor become a best-in class community amenity and recreational area for locals and visitors to enjoy.  Many of Hawaii's top fishing vessels and charter boats are docked at Kewalo Basin Harbor.  Supporting local businesses and creating a usable waterfront amenity, Ward Village and the Howard Hughes Corporation are committed to being stewards of this valuable community resource. 
With the Kewalo Basin Harbor, Ward Village is now connected from mauka to makai and will offer a truly integrated coastal experience in a modern, urban setting.