NANA ISONO
■ State of Hawaii Real Estate Agent (License#RS-75329)
GRI, e-PRO
Nana graduated from Woman's Collage of Art with a degree in Design Art. After study design in Seattle Washington for 2 years, Nana moved to Hawaii and started working for a local travel industry, major Timeshare industry where she was first introduced to the world of real estate in 2006. Nana recorded the Award of top performance in their marketing teams and setting her mind on cultivating her own business in real estate, she became licensed in Hawaii.
Nana currently has been joined "Corcoran Pacific Properties" which specialty of Luxury market. She is certified GRI(Graduate Realtor Institute) , CLHMS(Certified Luxury Marketing Specialists), e-Pro( Internet Marketing Professional Certification) , also Professional Home Stager.
Nana is knowledgeable in all aspects of real estate, but focuses her energy in helping international clientele find their dream home here in paradise. Clients are always impressed with her warm, prompt and reliable service. Nana puts her clients' needs first and works to build lasting relationships. Nana is fluent in Japanese and English and has a popular Japanese blog written about Hawaii, real estate and her private life. Nana is also KOTO(Japanese Traditional Instrument) master which above ranking of instructor degree but meantime she totally opposite things, Surfing, Hula and Tahitian dance. Nana enjoys watching broad way musicals, Arts, playing Violin,Yoga and spend time with her family.
|My goals and Motivations as a Real Estate Agent|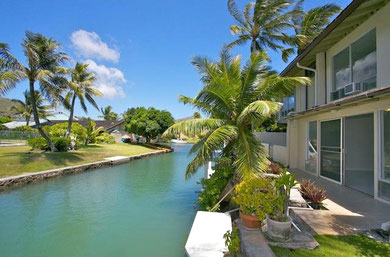 It is very important, especially to keep up with the speed of information provided by technological advances (e.g. Internet). It is my goal to constantly provide my clients with always up-to-date information, and to assist them with consideration, responsibility, and passion. I am also making sure that my services meet each clients' expectations accordingly. It is my pleasure to introduce you with the customized and the finest selection of real estate properties here on the islands of Oahu. 
|To Those Considering Properties in Hawaii|

Hawaii is a popular location, especially in Oahu island for various reasons, including its enduring mild climate, safety, convenience, yet beautiful natural landscapes, mixed culture and the world's famous warm "Aloha-spirit" of the people. There is also a rich Asian influence here where people can enjoy its cultural aspects. Massive developments including tourist attractions and jumbo shopping centers and high luxury brand boutique in Waikiki also add on to the excitement of Oahu. Limited land mass is a distinctive "quality" of an island, which adds value to real estate here. Please feel free to ask for a consultation at any time.