Ritz Carlton Waikiki Residence/East tower
Tower 2 (East tower)is still available! 
Ritz-Carlton Waikiki Residences is a luxury hotel-condo development to be completed in early 2016 by California based Pacrep LLC. Like the nearby Trump Tower Waikiki, Ritz-Carlton Residences is a luxury branded hotel with full-featured resort condos instead of hotel rooms. The architect is by New York based Guerin Glass Architects (also responsible for Trump Tower Waikiki and The Watermark). The general contractor Kobayashi Inc. is responsible for some of the best buildings in town (Hokua, Capitol Place, and Trump Tower).

 The central Waikiki location is very close to everything, yet it tends to be quieter with the park across the street and Luxury Row at 2100 Kalakaua shops as neighbors. Nearly all of the units in the tower will have views of the ocean over Fort De Russy Park. 
 Please click here for more detail about Ritz Carlton Waikiki Residence.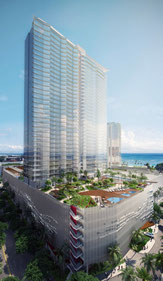 Ward Village ・AE'O, Gateway Towers(Cylinder & Blade) 
 AE'O is one of the newest planned high rises by the Howards Hughes Corporation and has been commonly referred to as the "Whole Foods Tower" for the highly anticipated, 50,000 sf Hawaii flagship Whole Foods Market that will occupy the base of the tower, along with an additional 12,000 sf of retail space. It will also be located adjacent to the Ward 16 Movie Theater.

AE'O will have 466 units consisting of studios, 1, 2 and 3 bedroom and each unit is expected to enjoy at least a partial ocean view. Prices are projected to start in the low $400ks, but it is unclear if that will be for reserve units or starting market pricing of the studios.

Please click here for more information.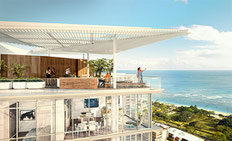 Cylinder by Ward Village Designed by renowned modern architect Richard Meier and acclaimed interior designer Tony Ingrao, Gateway Towers consists of two bright and modern towers, a Cylinder tower and Blade tower. At this time only 125 units in the cylinder tower are being offered for sale. Cylinder tower completion is set for late 2018. Room type 1 Bedroom~3 Bedroom & Villa. Gateway Towers boasts a front row location along Ala Moana Boulevard fronting the Kewalo boat harbor and features an acre of park space at street level and commercial shops along Auahi Street. The project is part of Ward Village, the largest LEED-ND Platinum Certified neighborhood in the U.S.
Please click here for more information.

FIRST OPEN HOUSE TODAY! 2ベッド2バス コンド所有権 $520,000 アラモアナまで徒歩10分
(Sun, 20 Oct 2019)
>> Read More
コウラ・ワ―ドビレッジ KO'ULA Ward Village の全貌
(Mon, 02 Sep 2019)
>> Read More
ザ・セントラル アラモアナ THE CENTRAL ALA MOANA 全貌
(Mon, 02 Sep 2019)
>> Read More
スカイ・アラモアナ SKY ALA MOANA 全貌
(Mon, 02 Sep 2019)
>> Read More
マンダリン・オリエンタル・ホノルル(マナオラナ プレイス)Mandarin Oriental Honolulu (MANA'OLANA PLACE) 全貌
(Mon, 02 Sep 2019)
>> Read More