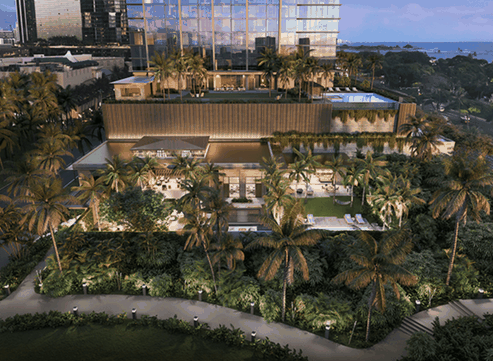 Victoria Place
The Howard Hughes Corp. has released plans for its seventh Hawaii tower, 400-foot luxury condominium building whose name pays homage to the original owner of the 60-acre master-planned community Ward Village.Victoria Place will be located at 1100 Ala Moana Blvd., between Waiea and Victoria Ward Park, a portion of the site The Howard Hughes Corp hapreviously planned as the site for one of the two Gateway Towers, according to an application filed with the Hawaii Community Development Authority, which oversees development in Kakaako.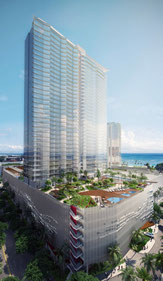 AE'O
 AE'O is one of the newest planned high rises by the Howards Hughes Corporation and has been commonly referred to as the "Whole Foods Tower" for the highly anticipated, 50,000 sf Hawaii flagship Whole Foods Market that will occupy the base of the tower, along with an additional 12,000 sf of retail space. It will also be located adjacent to the Ward 16 Movie Theater.
AE'O will have 466 units consisting of studios, 1, 2 and 3 bedroom and each unit is expected to enjoy at least a partial ocean view. Prices are projected to start in the low $400ks, but it is unclear if that will be for reserve units or starting market pricing of the studios.

Please click here for more information.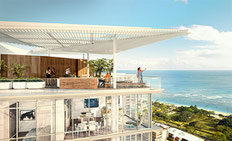 自宅で快適に暮らすツール その1
(Mon, 20 Jul 2020)
>> Read More
ハワイのコロナウィルス事情
(Sat, 11 Jul 2020)
>> Read More
FIRST OPEN HOUSE TODAY! 2ベッド2バス コンド所有権 $520,000 アラモアナまで徒歩10分
(Sun, 20 Oct 2019)
>> Read More
コウラ・ワ―ドビレッジ KO'ULA Ward Village の全貌
(Mon, 02 Sep 2019)
>> Read More
ザ・セントラル アラモアナ THE CENTRAL ALA MOANA 全貌
(Mon, 02 Sep 2019)
>> Read More